Zoey is Zarah's daughter from the Zarah/Doc 2012 litter.
Zoey is well balanced, social, superior temperament and disposition, high ball drive, great alert, well muscled female weighing 70 lbs.
She is black with a white spot on her chest.
Cody and Zoey had 9 beautiful solid black, and Bi Color puppies on December 15, 2015
She was bred and due on December 26, 2016 for a repeat Cody litter.
Due to complications during her pregnancy, I had Zoey spayed and she is now retired and living her live out here on my farm with my pack of German Shepherds, my horses and I.
This was to be Zoey's second litter.


Photos below is Zoey…..
wide face, wide eye and nice solid muscled body, and carrying 10 puppies!
Click on this link to view Zoey's Pedigree Database: http://pedigreedatabase.com/german_shepherd_dog/dog.html?id=1995691-vom-haus-schutz-k9-zoey
Click here for a copy of Zoey's Pedigree Certificate: Zoey Certified Pedigree Certificate
                                                                                                                                                                                         Zoey                                                                                                      Cody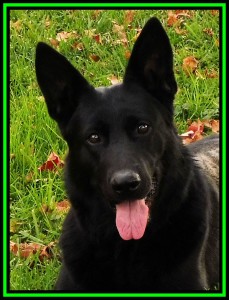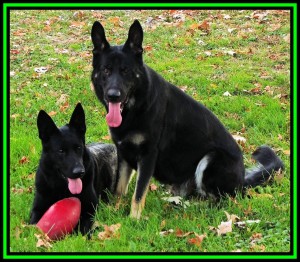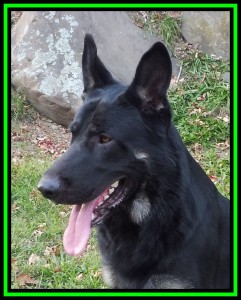 Zoey and her new litter, Born December 15, 2015
Puppies left for their new homes Feb 9, 2016